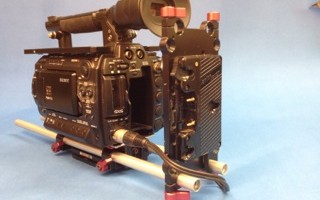 New Pro Video Systems, Inc. offers top of the line pre owned  broadcast and video production equipment to the professionals serious about their craft. Production companies and those who need consistent products they can count on should consider the quality of used professional video equipment our business can offer you. We pride ourselves in catering to production companies that are seeking the best possible items at a price that makes sense for them.
Our Company's Story
For 22 years, New Pro Video has made it a priority to provide quality used professional production equipment to independents, broadcasters and creatives around the world. The client base may vary in size, but our customers share a passion for what they do, as do we.
Our company's founder and owner, Barbara Holler, is an industry veteran. The product catalog draws from some of the most well-known brands in the field, including Sony, Fujinon, Canon, Zeiss, Angineux, Panasonic, Arri & Red to list a few. An expansion to the inventory came in 2010, when, through hard work, good connections and God's blessing, Barbara joined E.C. Professional, Inc. to expand her services and offer new equipment as well. This means the production equipment you are looking for can be had either new or used.
Trustworthy and Knowledgeable Dealers
Though we work as an intermediary in acquiring these products for sale, customers can expect a direct connection always striving to make our clients comfortable with their purchases. We know that even newer items have important histories that the buyer needs to be aware of. Purchasers can be sure that they will get all the necessary details "drama free" when they finally decide on an item they'd like to buy, and that they're working with a qualified equipment broker who knows what they are talking about.
Forming Strong Bonds
Another point of pride for Barbara is the long and ever-expanding list of contacts she's built up over the years all throughout the industry, including clients in business, academia, and all different levels of the world of television, video & film production. We look to create strong relationships with customers that last and lead to continued dealings, as that's the right thing for both parties. And when you come to New Pro Video, you can bet that you will get service that is honest and will work tirelessly for your best interests.
A Wide Range of Options
Recognizable brand names and the technology that will keep your company's project relevant and on track are within your reach, and you can look to the high-level of quality pre owned production equipment including cameras, lenses, production trucks, VTR's Switchers, and other accessories as well as new equipment to fulfill your equipment needs. Barbara considers her strength to be the way she coordinates successful equipment deals between professionals quickly and to the highest level of all-around satisfaction.
You Need the Right Guidance
Everyone benefits from working with someone who can boast a high level of experience. Companies that are taking their first steps toward production as a serious profession need to know they're on the right path, and experts want to know someone who won't talk down to them or lead them astray.
Whatever your story, Barbara Holler and New Pro Video can help you find the tools you need to develop strong, profitable & successful productions. For more information, call 843-554-7811 or email Barbara at barbara@newprovideo.com.